In its effort to make the SAT more effective and accessible in addition to shorter, the College Board has created a stage adaptive test that adjusts according to a student's performance. So, What is an adaptive test? Here is a quick rundown of how it will work. To make things easy, we'll use the Math modules as an example, but the same rules apply to the Reading and Writing modules.
The Math section is separated into two modules. Questions within each module are leveled easy, medium, and hard. While every student gets a unique set of questions, the difficulty levels are evenly dispersed in Module 1 so that everyone answers the same amount of easy, medium, and hard questions spread out over the four main categories (Algebra, Advanced Math, Problem Solving and Data Analysis, Geometry and Trigonometry). The difficulty level of Module 2 is adapted based on a student's performance on Module 1. There are still easy, medium, and difficult questions in Module 2, but the more difficult version will have more of the difficult questions than the easier version.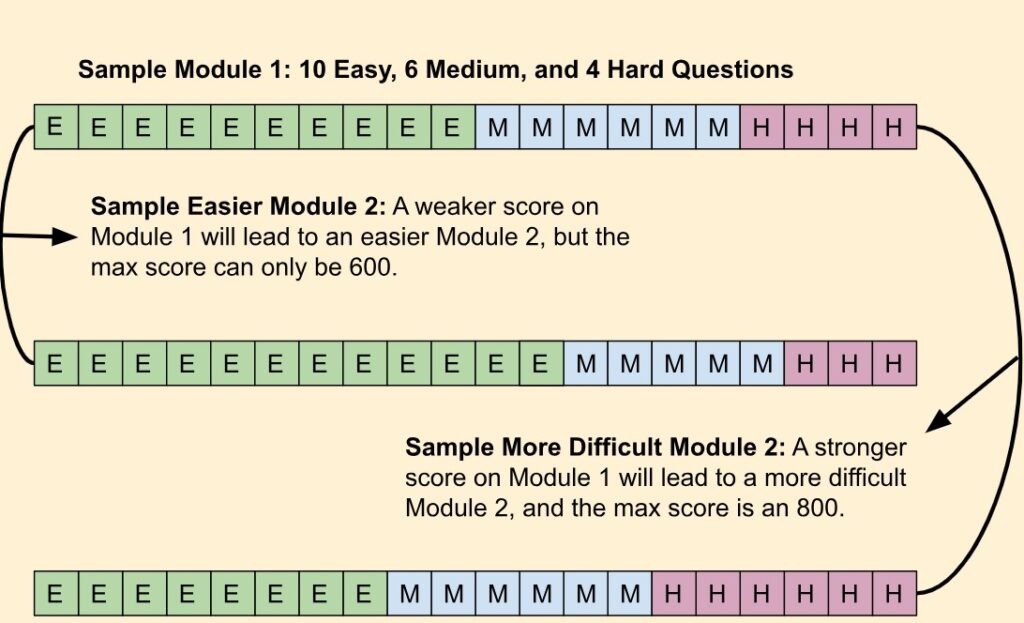 Of course, answering as many questions correctly as possible plays a role, but students also have to be comfortable with the more challenging questions. Simply answering the easier questions correctly will not necessarily qualify a student for the more difficult Module 2. The College Board uses a scale to calculate which Module 2 a student qualifies for, so it's not as simple as counting how many questions are answered correctly.
To maximize their scoring potential, students need to perform well enough on Module 1 to qualify for the more difficult Module 2. Students who qualify for the easier Module 2 can only get a maximum score of 600, regardless of how many questions they get correct. Students who qualify for the more difficult Module 2 can still earn up to an 800, although they can still get less than 600 if they do poorly on Module 2.
So what does this actually mean? The College Board says that content will remain consistent with the current paper test and all the digital SAT questions have been pre-tested with thousands of students to determine the difficulty level for each one, but students who take the test won't know exactly which questions they answered correctly or the difficulty levels. In regard to the math section, students should be comfortable with the content range, but almost as important, they should be as confident as possible in basic algebraic and geometric operations (i.e. exponent rules or properties of triangles) to ensure they make fewer basic mistakes. Difficult math questions often require students to know several simpler concepts, and a lack of knowledge in those simpler concepts will lead to incorrect answers. Practice, either with official SAT materials from the College Board or other sources, will help students become familiar with the question styles and content of the new test.
At PES, we offer several options for helping students prep for the SAT. We now offer online practice problems in addition to individual tutoring services aimed at identifying strengths and closing any knowledge gaps. For more information, simply send us a message at tutoring@pesglobal.org or submit an inquiry form here for more information. Also, Check out our Math Accelerator Practice Problems here.
Disclaimers:
Hey there reader! Just a heads up that some of the links on this page are affiliate links. That means if you click on them and make a purchase, we might earn a few cents to keep the lights on and support our caffeine addiction. But don't worry, it won't cost you a cent extra. And if you're not cool with that, no worries – feel free to open up a new tab and find the product on your own. Either way, thanks for stopping by!